Description

SRNE 200V hybrid inverter
・As of November 24: 1 unit in stock ・If there is no stock, it will be ordered from the manufacturer and will arrive in about 3 months.

By connecting a 48V battery system and a solar panel, an AC power supply system with AC200V 5kW output can be constructed.

Warranty period
half a year

Spontaneous failure (under the usage environment in accordance with the instruction manual and the manufacturer's warranty regulations)




Failures that occur during proper use) are covered by the warranty.




The warranty does not cover damage caused by intentional or improper maintenance of the system, misuse, or improper repair or modification. note that.

Features of this product In addition, the PV input voltage of the solar panel supports up to 450V (mostly 150V or 250V)

By using it with a battery, the power charged by the solar panel is stored when not in use, and when it is used, the stored battery can be used preferentially, or normally stored and used while giving priority to commercial power supply. You can select and set the priority, such as using the battery in the event of a power failure.

Click here for specifications
https://www.srnesolar.com/wp-content/uploads/2020/11/High-pressure-reserve-control-all-in-one-machine-HF4850S80-H-Specification.pdf

WIFI module pre-set

Major features
1. Adopt full digital double closed loop control, combined with advanced SPWM technology to output pure sine wave.
2. Two output modes: mains bypass and inverter output. Uninterruptible power system.
3. Four charging modes: PV only, mains priority, PV priority, PV and mains hybrid charging.
4. Advanced MPPT technology with 99.9% efficiency.
5. Wide MPPT voltage range: 120-450V.
6. Individually according to load capacity.
7. It has two lithium battery startup modes, main power and PV, and supports access to lead-acid and lithium batteries.
8. Comes with LCD display and 3 LED indicators to show status and data clearly.
9. Rocker switch for AC output control.
10. Power saving mode, reduce no-load loss.
11. Intelligent variable speed fan to efficiently dissipate heat and extend system life.
12. Solar panel comprehensive protection includes overload and short circuit protection, undervoltage and overvoltage protection, reverse polarity protection.

13.Supports CAN, USB and RS485 communication
model

HF4830S60-H

HF4850S80-H

AC mode

Rated input voltage

220/230Vac

Input voltage range

(170Vac~280Vac) ±2%;(90Vac~280Vac) ±2%

frequency

50Hz/60Hz (automatic detection)

Frequency range

47±0.3Hz~55±0.3Hz(50Hz)/57±0.3Hz~65±0.3Hz(60Hz);

Overload/short circuit protection

breaker

efficiency

>95%

Conversion time (bypass and inverter)

10ms (typical value)

AC reverse protection

yes

Maximum bypass overload current

30A

40A

Reverse mode

Output voltage waveform

pure sine wave

Rated output power (VA)

3000

5000

Rated output power (W)

3000

5000

Power factor

1

Rated output voltage (Vac)

230 Vac

Output voltage error

±5%

Output frequency range (Hz)

50Hz±0.3Hz/60Hz±0.3Hz

efficiency

>90%

overload protection

(102%

(125%

Load>150% ±10%: Report an error and turn off the output after 5 seconds.

maximum power

6000VA

10000VA

load motor capacity

2 hp

4 hp

Output short protection

breaker

Bypass breaker specifications

30A

40A

Rated battery input voltage

48V (minimum starting voltage 44V)

battery voltage range

40.0Vdc~60Vdc ± 0.6Vdc (under voltage alarm/off voltage/over voltage alarm/over voltage recovery…settable LCD screen)

Power saving mode

Load ≤25W

AC charging

Battery Type

lead acid or lithium battery

Maximum charging current

60A

60A

charge current error

±5Adc

Charge voltage range

40~60Vdc

short circuit protection

Circuit breakers and blown fuses

Breaker specifications

30A

40A

Overcharge protection

Sound an alarm and turn off charging after 1 minute

solar charging

Maximum PV open-circuit voltage

500Vdc

PV operating voltage range

120-500Vdc

MPPT voltage range

120-450Vdc

battery voltage range

40-60Vdc

Maximum output power

3000W

5000W

Charging current range for solar energy (configurable)

0-60A

0-80A

charging short circuit protection

blown fuse

wiring protection

Reverse polarity protection

Certification specification

Specification certification

CE (IEC/EN62109-1,-2), ROHS2.0

EMC certified grade

EN61000

Operating temperature limit

-15°C to 55°C

Storage temperature range

-25°C to 60°C

Humidity range

5% to 95% (conformal coating protection)

noise

≤60dB

heat dissipation

Forced air cooling, variable speed fan

Communication interface

USB/RS485(Bluetooth/WiFi/GPRS)/Dry node control

Dimensions (L*W*D)

426mm×322mm×126mm

Weight (kg)

11
Various certificates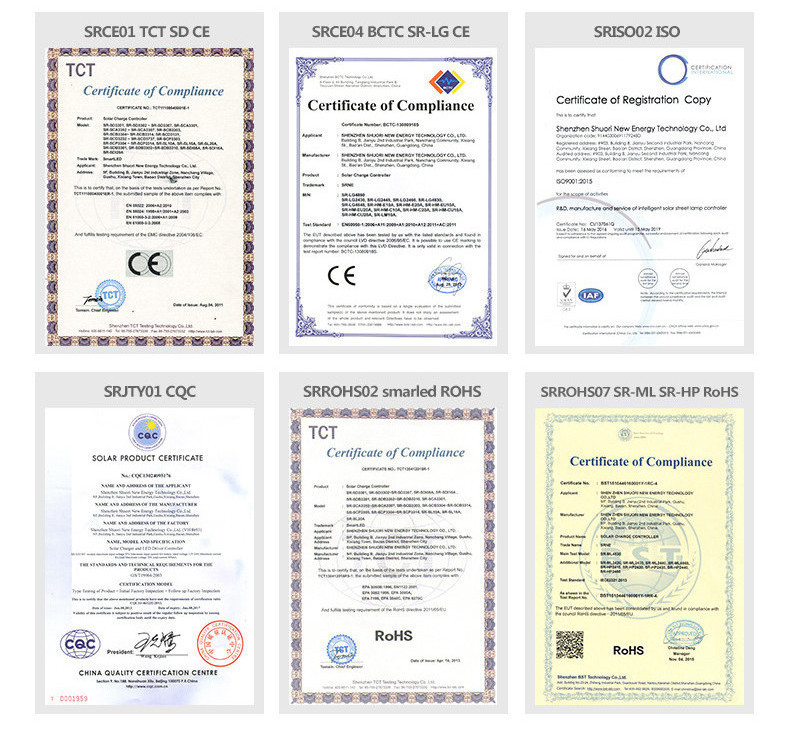 Products related to this product