Founded in 2004, BluesunSolar, headquartered in Liandong U Gu Shushan International Enterprise Port, Hefei City, Anhui Province, is a technology trading Internet enterprise specializing in the solar field with an office area of 3000 square meters and a peripheral warehouse area of 63000 square meters. Our main products include solar panels, solar charge controllers, solar inverters, solar umbrellas, solar roof tiles, energy storage batteries, mounting systems and other solar products including a complete set of solar power solutions.
We work closely with Tier 1 brands in the industry. At present, our company is licensed by LongiSolar and JASolar Energy, and also contracted some automatic production lines in Tongwei and Sungrow locally. Adhering to the mission of bringing more Chinese products to the world, we have sold our products to more than 150 countries abroad . With the explosive growth of the overseas market, our company not only participates in more than 15 overseas solar exhibitions every year , but also established a branch office in the United States at the end of 2018, and an overseas warehouse in the port of Houston to serve our customers. is offered to with a more timely delivery service; at the same time Vietnam, Thailand, Yemen, Ukra
We have stable distributors in Ina, Poland and Brazil to provide our customers with timely pre- sale, in-sale and post-sale protection. Along with that, we encourage our internal employees to grow companies and provide angel fund support . Many nuclear fission subsidiaries have diversified their products to achieve multi- point detonation.
In 2020, the trading volume will exceed US$ 1.4 billion, and we aim to be listed on the Hong Kong stock market in the next three years .
Mission:

To become a fully renewable energy company that helps residential and industrial customers reduce their energy consumption and environmental impact through advanced solar energy systems.

vision:

Through our 'Solar Energy Promise, Your Promise' approach, we help our customers reap all the benefits of renewable energy, including solid economic benefits and positive environmental impacts.
Our products have been tested by an internationally recognized third party. Registered with JPEA in Japan.
Construction example
Poland
10kw On-Grid Solar Power Plant
Project Type: Residential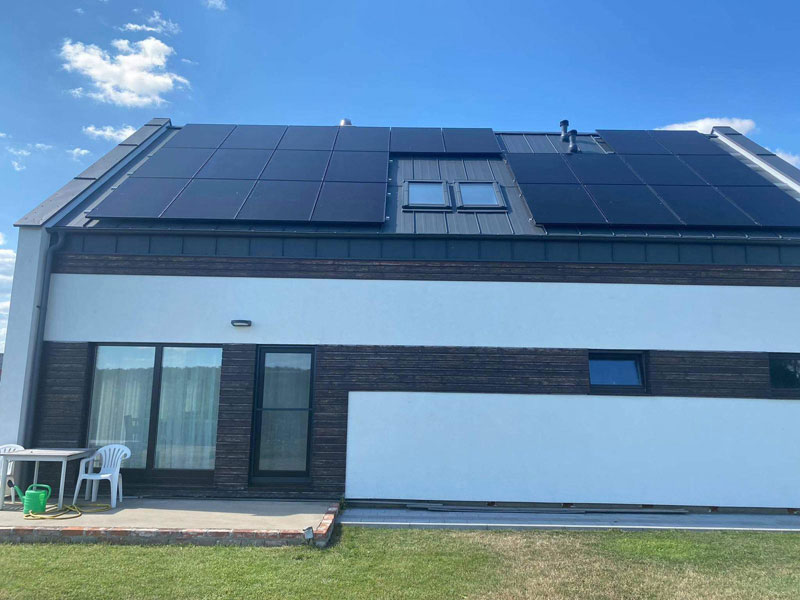 Standing 85.4kw shingled solar panel On-grid solar power plant (Hokkaido, Japan)
Rooftop 230kw Shingled Solar Panel Photovoltaic Power Plant (Switzerland)
1Mw on-grid solar power plant (Iraq)